Luxe Day Spa Body Care range
Posted on January 10, 2012 by admin
Now available exclusively to Luxe Day Spa.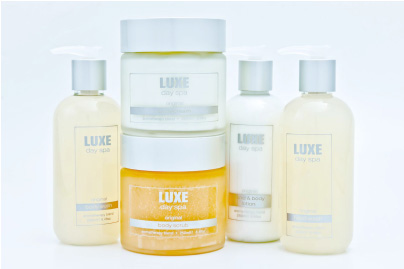 We are excited to announce the launch of the
Luxe Day Spa Body Care range.
Our unique blend has been developed by Luxe Day Spa consultant Aromatherapist Lizzie Carvill who has been an aromatherapist for 18 years and produced in London. Using the highest quality ingredients and essential oils, Lizzie has created a stunning blend of oils which are proven to uplift and relax. Notes of sensual Ylang Ylang, and mood elevating oils such as Bergamot, Clary Sage and Geranium among others work harmoniously to give that Ahhhh in a bottle. We have always used the very best product ranges, but felt there was something missing. We wanted to create a unique product that was natural, gave amazing results and also had positive effects like aiding sleep, anxiety and relaxation etc. We are delighted with the results as are our clients! Available in Body Scrub, Body Cream, Hand & Body Lotion, Hand wash and Body wash.
Bespoke packages using these amazing products are now available within Luxe Day Spa.